Just a quick reminder that my Stridebox Giveaway ends tonight. Head on over and enter while you still can!
I'm going to give this a try. I promise I won't post every week about what I ate because, well, I eat the same things and I know that's boring. BUT I figured I would share some of my Whole30 eats with you.
Breakfast: Fried eggs & strawberries and bananas. Can life get any better? So simple because, let's face it, the brain isn't ready to come up with anything exciting for breakfast. That's why God made eggs cook in like 3 minutes.
Lunch: I really wanted sweet potato fries, but the kind you buy frozen aren't Whole30 friendly, so I made my own. It was completely exhausting. I didn't know cutting up raw sweet potatoes would be so much work. I couldn't have ketchup so I mashed up an avocado to dip them in and I had some grilled chicken also (ate it before taking the picture). It was DELICIOUS!
Dinner: I found a recipe for Whole30 fajitas and I thought I would try that out since the thought of eating grilled chicken again was making me want to gag. I did beef fajitas with bell peppers & onions. I don't think I've ever eaten bell peppers before and they were delish! I used lettuce cups instead of tortillas and I found an excellent guacamole recipe and we used that to dip in. It was by far one of the better meals I've eaten.
Snacks: More strawberries & bananas. I needed to eat them before they went bad. This is my preferred way to eat them- in little stacks. It seems like a much fancier snack this way.
Things I made but couldn't eat: My mother-in-law needed some of my "famous" cookies for some people at church. They look so yummy, I mean pretty. *sigh*
I'm linking up over at Peas & Crayons WIAW Party!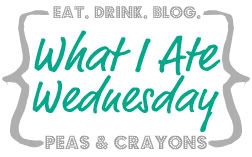 ————————-
QOTD: What about you? Have you eaten anything awesome this week?